Headteacher's Parental Messages
 Dear Parents and Carers 
The examinations for Y13 and Y11 have almost finished. As I said in my last communication, the resilience and conduct of the pupils has been exceptional. We are very much looking forward to being able to put on a prom for both Y11 and Y13 this summer after two years without these events. Letters outlining arrangements for both GCSE and A-Level results days have been sent and are also on the school website. 
https://www.king-james.co.uk/wp-content/uploads/2022/06/GCSE-Results-Day-arrangements-2022.pdf 
https://www.king-james.co.uk/wp-content/uploads/2022/06/A-Level-Results-Day-arrangements-2022.pdf 
Parents' Evenings: 
I'd like to apologise again to parents in Y7 who had the online parents' evening disrupted by a problem with our service provider. This was genuinely beyond our control. We are very conscious that, throughout the Covid pandemic, the chance for parents to meet teachers, and to come into school for any reason has been very limited. It is for this reason that we have put in place some pastoral parents' evenings later this term so that parents can meet with tutors for a face-to-face update. 
Year 7 - Monday 11th July 
Year 8 - Monday 27th June 
Year 9 - Tuesday 28th June 
Year 10 - Wednesday 29th June 
I am hopeful that next academic year there will be more opportunities for parents to come into school and we can start to rebuild those important relationships that suffered during Covid. 
Y12 Post 18 options: 
The feedback from our Y12 events last week has been very positive. Y12 had a day off timetable on Thursday looking at the full range of options for life after school, including apprenticeships and higher education. This was followed on Friday with a visit to a university event at which all of the UK universities were represented. 
Attendance: 
As you know, the Covid pandemic has had a significant impact on school attendance, nationally. King James's attendance is beginning to bounce back, and we are grateful for parental support in maintaining high attendance.
Over the coming weeks of this summer term, you will be receiving various attendance correspondence and useful information from school. Attendance and punctuality have been the focus of our year group assemblies during the past few weeks. Great attendance correlates with good educational achievement. New government attendance guidelines have been issued and these must be in place by September this year. 
Pupil support: 
As we emerge from the pandemic the vast majority of pupils are enjoying socialising, renewing their friendships and getting on with school. However, as I talk to other school leaders, and visit other schools, it is clear that some pupils are struggling to learn to get on with each other again. I do believe that we have some work to do to rebuild resilience. 
This week we have been reminding pupils of the need not only to be kind to one another, but also to be prepared to report any concerns so that we can provide support. I am attaching some information below about our 'confide@' email address, which has been live now since March.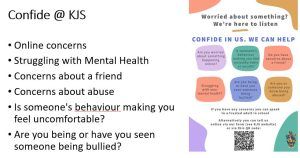 A lot of negative behaviour and peer on peer abuse takes place online. The resource below is extremely useful: 
https://www.thinkuknow.co.uk/11_18/lets-talk-about/socialising-online/ 
There are also some important safeguarding reminders from the local safeguarding partnership here. This includes further information about online safety and bereavement. 
Kind regards 
Carl Sugden 
Headteacher. 
Dear Parents and Carers,
Welcome to this update from King James's School.
GCSE and A Level exams
GCSE and A level exams are underway. After two years without exams there is naturally some apprehension from students, teachers (and no doubt parents) about taking exams again. I am very pleased to say that the feedback from the exams so far is very positive. The attitude and approach from the Year 11 and Year 13 students has been excellent.
We have started to plan for the results days. We will be delighted to have students back on site again to collect their results. This is the 18th August for A Level results and 25th August for GCSE results. Please watch out for a fairly lengthy letter (next half term) which will give lots of information about how to collect results and our post results support.
I spoke at the leaving assemblies for both Year 11 and Year 13 students and I thanked them for both their amazing contribution to this school over the past five or seven years, and also for their resilience in facing the challenges of Covid whilst doing their GCSEs and A Levels. Thanks also to you, as parents and carers, as you have supported them in the build up to the exams.
Sixth Form
Mr O'Hara provided an important update for Year 12 pupils and parents which was sent out earlier this week. It includes information about the Year 12 exams which begin after half term, and information about our Post 18 options events. These events will include visiting speakers from Northumbia University and an open day.
Uniform
After the May half term it usually gets a lot warmer. At this point we allow pupils to come to school without their blazer and jumper, if they wish. All other uniform standards remain.
Free School Meals
We are aware that some of our families can suddenly find themselves dealing with new financial issues. If your household income is low or has recently decreased, your child may qualify for Free School Meals.
To check if you may be eligible please click here.
If you meet the criteria, apply by clicking here.
If you are successful, in addition to free school meal, your child would also become eligible for Pupil Premium funding which the school can use to support with a range of additional educational opportunities. Please feel free to contact our Pastoral team for any support.
Curriculum information
Pupils become a lot more independent at secondary school and as a parent it can be hard to keep up with what they are studying across a wide range of subjects. If you ever want more information please don't forget that all of our programmes of study are available on the website. Click onto the departments, or curriculum section of our website.
Positives
A huge congratulations to our Under 18 football team, who won the area cup.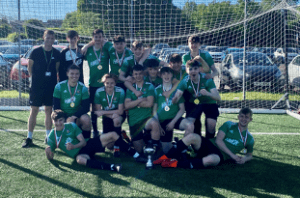 And some of our computer science students have had their code used on the international space station. More information can be found here.
Finally, as we prepare for a double bank holiday, I'll leave you with a picture showing off the work of our pupils in the learning support department.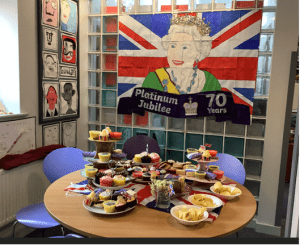 Carl Sugden
Headteacher
Dear Parents and Carers,
Welcome to this update from King James's School.
Year 11 and Year 13:
It has been a real pleasure in the past few weeks to be interviewing Year 11 for their places in the sixth form. Despite all of the challenges that we have all faced over the past two years I have been blown away by the positivity and resilience of the Year 11 students as I have spoken to them about their plans for post 16 education and beyond.
They have some high aspirations. They are naturally nervous, but positive in their preparation for the upcoming exams. Most of all they are excited about the future, and that has given me a boost just by talking to them.
We know that many students in both Y11 and Y13 are apprehensive about the GCSE and A Level exams. I have asked many of the Year 11 students that I have interviewed recently, whether they feel they are getting the support they need in the run up to the exams, the answer has been very positive.
We understand the apprehension of sitting A Level and GCSE exams in these uncertain times. What we do know is that in 2019 (the last year of normal exams) and in 2020 and 2021, our pupils achieved very well. The staffing shortages and periods of lost learning have affected all schools and all students (although not equally). I believe the impact here to be no more or no less than any other. On this basis, I feel confident that we have given our young people the best chance. We will continue to work tirelessly in these remaining few weeks to prepare them.
I have included a graphic (below) from Ofqual, which reminds us of the adaptations made to the exams for this year. More detailed guidance can be found here.
Covid:
Unfortunately Covid continues to have an impact in school. We continue to face daily staff absences, higher than I would like. I finally succumbed to Covid myself last week. Please rest assured that we are doing our best to cover classes. There is nothing I want more than to be able to start the day without worrying about how we can cover absent staff. It will be interesting to see what the next stage of lifting restrictions will look like and whether will help to keep people at work after 1st April.
On a more positive note it has been good to see PE fixtures back in the schedule, we have House Drama back on stage in the summer term, Duke of Edinburgh expeditions have been out and we have our first residential visit (London drama trip) going out since the covid pandemic began.
Ukraine:
Can I pass on a huge thanks to our generous parents, pupils and staff who have raised over £5000 for the Ukraine appeal. This was achieved through a combination of donations to Parent Pay, a uniform sale and a cake sale.
Uniform:
You will be aware that we are having a focus on some aspects of our uniform at the moment. We have been making contact with some individual pupils and parents about the wearing of the correct school shoes. We are also revisiting the issue of kilts being worn incorrectly.
The KJS uniform is designed to be smart and professional, and appropriate for a work and education setting. Most students do wear it as intended, with pride, in the way we expect. However, we want to highlight that the uniform shouldn't be modified in any way that could result in it being inappropriate (specifically tucking the jumper into the kilt and rolling the waistband over numerous times).
The response this week has been very good and the vast majority of pupils are wearing the uniform correctly. In the longer term we are considering changes to the King James's uniform. DfE guidance on school uniforms is changing, in particular to ensure they are affordable, and it will be necessary to review our uniform and consult with parents as we consider any changes.
Sixth Form:
Finally, please watch out, after Easter, for more information from the Sixth Form team about the introduction of an electronic system for signing in and out.
Thanks again for your support.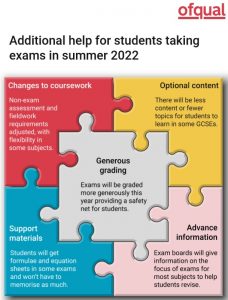 Dear Parents and Carers
This is a lengthy newsletter but there are some important updates listed below, particularly in relation to a change in our attendance procedures.
It was a welcome move today, to be able to teach without the necessity for face coverings. Teaching is most effective when we can build relationships and pick up non-verbal signals and cues. It's very hard to do this when pupils and teachers are wearing a face covering. Face coverings in communal areas stay in place until next week, when I understand it will be no longer be recommended. There is also more freedom now that we can start to mix year groups for extra-curricular activities such as music and drama.
These are the positive small steps. Challenges remain, we still have higher than normal staff and pupil absence. I am, however, more hopeful than I was before Christmas that we can avoid any further periods of home learning, as long as case numbers of Covid continue to fall.
Pastoral support:
Mrs Handley has just done a series of powerful assemblies on the subject of sexual harassment. We want all pupils to feel safe and secure in reporting any issue that is troubling them. With this in mind we are supplementing our usual safeguarding and wellbeing support with the opportunity for pupils to report any issues using a link on our website. You can find out more here:
 https://www.king-james.co.uk/confide/
There's also a useful resource about supporting young people to understand the issues of online sexual content, for parents here:
https://www.childrenscommissioner.gov.uk/wp-content/uploads/2021/12/cco_talking_to_your_child_about_online_sexual_harassment_a-guide_for_parents_2021.pdf
Attendance systems:
King James's School will be launching an online form to enable parents/carers to quickly report the absence of their child, during term time. All absences for the same day must be reported by 8.30am. The form will be available on the KJS website via the 'contact us' page on the website.  This will go live from Monday 24th January.
 The form will need to be completed on each day the child is absent (or in advance where possible), unless advised otherwise. A member of the year group pastoral team may contact you for supporting documentation in relation to planned absence (i.e. medical appointment).
 We believe the online form will provide several improvements to reporting, including:
eliminating risk of misheard key information
creating an immediate written record of the absence
creating a digital trace of all reported absences 
reducing administration time between initial notification and updating the year group pastoral team.
We request that all parents/carers use this system. We appreciate that this is a new approach to absence reporting and we will therefore continue to operate the school's attendance phone line for a brief adjustment period. 
After you have completed the form an automatic email will be sent to the email address provided. This is to verify the absence as genuine, if you receive an email in error please inform the school via 01423 866061. To make sure we can verify the submitted form please keep the school informed of any changes to details.  
COVID-19 Related Absence 
The form will include an option for COVID-19 related absence. Please ensure to select this option to notify us of, or update us on, any coronavirus related absences.
 All LFD test results must still be reported to the school in the usual way, via the 'report your results form'. Please then refer immediately to the Covid19 section of our website for further information on the current self-isolation guidance. 
Reminder of Covid isolation period
If pupils have Covid, they may now take LFD tests on day 5 and day 6 of the self-isolation period. Those who receive two negative test results, and do not have any symptoms are no longer required to complete 10 full days. You still continue to isolate if you have symptoms.
Many Thanks
Carl Sugden
Headteacher
Dear Parents/Carers,
Thank you for your support this half term. It has been a challenging one, but a rewarding too. The main challenge, unsurprisingly, has been high levels of student and staff absence, partly due to Covid, but also due to the high number of seasonal colds and flu. As always it's best to focus on the positives. It is great to be back to face-to-face teaching and it has been good to see school fixtures taking place, musicians and actors back on the stage, and pupils working collaboratively.
I would like to remind you, please, to keep going with Covid testing during half term, particularly just before we return to school. Testing helps us to manage and reduce the number of cases in school.
We have been given a date for the school immunisation service to begin immunisation in school. There is a letter being sent by the service with instructions on how to provide consent. The date we will have for the immunisation service in school is 11th November.
Ready, Respectful and Engaged
We are delighted that, in the main, our students transitioned smoothly back into the KJS community in September by being 'ready, respectful and engaged'. Certainly a large majority of our students have sustained really high standards over the past half term in meeting our expectations around these values.
At the start of the second half term we will be focusing on the importance of being 'ready' both physically (by wearing the correct KJS uniform with pride) and practically (with regard to having the correct equipment and being on time to learn by being punctual). For some students it may be necessary to use the half term break as an opportunity to 'reset' and to consider ways in which they can ensure that they have a positive and consistent approach to our values and expectations from the start on 1st November. We ask that any uniform issues (including incorrect footwear, inappropriate hair styles/colours and piercings) are addressed over half term so that on our return students can start afresh in a positive way.
Key Stage 3 Homework
We have developed a new homework policy for Year 7, 8 and 9. Every subject has homework activities which will be called bronze, silver or gold activities. The task is based on the length of time that it will take students to complete their homework. All our students have had an assembly about the new policy and purpose of setting homework, which we know can have a significant impact on pupil learning. We have also given them guidance on how to organise their time, so they complete homework to the best of their ability. Doing homework allows students to deepen their knowledge and become more independent learners. This will develop their confidence and help to prepare them for GCSEs and beyond. Please listen to the assembly which can be found on the school website so that you are able to support your child with their homework. 
Thanks again for your support this past half term.
Regards,
Carl Sugden
Headteacher
Dear Parents and Carers
As we approach the end of the second week of term I'm delighted to say that school is beginning to feel more a bit more normal again, after so much disruption this past year.
The Year 7 pupils have made a fantastic start to their time at King James's. They have really impressed Mr Keogh, Mr Nicholson, Mrs Holdsworth, all their teachers and the Year 7 Tutor Team.  They are polite, they take pride in their new uniforms and they have amazed us at how quickly they are finding their way around school. They have taken lunchtime in their stride and are making new friends in their tutor and teaching groups.
To enable us to return any lost property, could we ask again that all items of uniform, PE kits, bags, coats and other personal belongings are clearly labelled with their names.
Year 7 parents should be very proud of how they have made the transition from primary to secondary school.
In the other year groups the vast majority of pupils have returned ready to learn and are settling well into their new classes. Our main pastoral theme this half term is about respect for our community.
 "Be ready to belong to our KJS community by wearing the uniform with pride"
Some pupils are still wearing the uniform that we allow in the summer months. From Monday 20th September all students should be wearing our normal uniform. This means that blazers and school jumpers should always be worn on site from Monday and only removed with permission of their class teacher. 
In addition, a reminder that no outdoor clothing (including hoodies) should be being worn on top of (or instead of) our uniform once in the building.
It also feels like a defining moment as we are able to start up many more of our extra-curricular activities after having to stop them during Covid. Year 7 Drama Club will be starting on Thursdays, Year 8 Drama Club on Tuesdays, Year 10 and 11 'Improvisation and Free Play' on Mondays and Sixth Form Drama and Performing Arts Club on Mondays. The extra-curricular booklet containing information about all our clubs is now available on the school website.
In the coming weeks we also hope to begin some events live in school such as our Open Evening and the evening when our Year 7 parents meet the tutors.
We have some Year 11 exams coming up. It's really important to stress that these are not mock GCSE's. I want to re-assure parents and pupils that these exams are important, but they are not 'make or break'. We just need to keep Year 11 ticking over with some formal assessments, both to give them some exam practice and to give us some assessment information to test what they know.
You will have seen in the news that a Covid vaccination programme for school-aged children has been announced. We are waiting ourselves for information on the COVID-19 vaccine, the vaccination programme and how it will work.  Please rest assured that we will communicate in advance and very clearly with parents about the nature and timing of this vaccination programme once we know more.
Vacancies at King James's School
We have the following non-teaching positions currently available in school.
Job Role

Hours

Closing date

Attendance Officer

37 hours per week

Term Time Only

23rd September

Catering Assistant

Supply / Relief

Term Time Only

30th September

Site Cleaners

10 and 15 hours available

Term Time Only

21st September

Senior IT Technician (based at Boroughbridge High School)

37 hours

Term Time Only

21st September

Senior Midday Supervisory Assistants

1 or 2 hours per day

Term Time Only

30th September
For further information about these vacancies and a copy of our application form, please refer to the 'Vacancies' section of our website:  www.king-james.co.uk
Yours sincerely
Mr CA Sugden
Headteacher
Dear Parents / Carers
I am delighted to be welcoming everyone back for the start of a new academic year. One in which we all hope to see a return to some sense of normality for our young people, and less disruption to their education.
I am indebted to Mr McIntosh who has led the school so well in the last 11 months. I have now returned from my work with Ofsted to my role as King James's Headteacher. I am delighted that Mr McIntosh will continue to be here as Deputy Headteacher, it will be a pleasure to be working alongside him and the senior team again.
We are ready for the return of all pupils on Wednesday. Year 7 and Year 12 make an earlier start on Tuesday so that we can give them a strong start to the new phase of their education. Please find below some key messages that Mr McIntosh put in his final newsletter at the end of last term. If you are unclear about any arrangements in relation to the start of term, please do get in touch.
We will be keeping the one-way system as students move around school as last year it really helped to maintain a calm, orderly atmosphere. Students will also need to be on site for 8:40am at the very latest and must enter through the following entry points:
S1 car park: Year 7, 10 & 11.
Cemetery Lane: Year 8 & 9.
Sixth Form gates: Year 12 & 13.
All students must then go through their year group social hubs where they will be met by their pastoral year team. This must happen before the students go to form time. The year group hubs are listed below:
Year 7: Chaloner Hall
Year 8: Sports Hall
Year 9: Girls Gym
Year 10: Dining Hall
Year 11: S1
Year group bubbles are now allowed to mix, and in order to provide a higher quality of food for our students we will allow certain year groups to have the same eating space at break/lunch. Please see below:
Year 7 & 8: To eat in Chaloner Hall at break/lunch. Year 8 then can return to their own social hub space in the sports hall.
Year 9 & 10: To eat in the dining hall at break/lunch.
Year 11: To eat in S1 at break/lunch.
We know that the majority of students will demonstrate the KJS values of being physically 'ready' by wearing the correct KJS uniform with pride. However, please be mindful of our expectations around some of the specifics that some teenagers like to push the boundaries with!
Nails must be an appropriate length and a discreet colour. 
Parents must seek advice before allowing their children to embark on any form of piercing that is not a traditional ear piercing. 
Extremes in hairstyles are to be avoided - hair should not be dyed any non-natural colour and students must not have patterns shaved into their hair. 
Students have been brilliant regarding their compliance around mobile phones. A reminder that these need to be put away from when students arrive on site, until the bell at the end of the day.
Finally, when purchasing new school shoes please remember that plain black shoes are all we permit. Boots, trainers or pumps are not acceptable.
We have had a delay to the delivery of our student planner. Students will start the year with temporary planner diary pages. The planner is due in late September.
Test Centre
Pupils with consent are expected to make their own way to the test centre for their allocated appointment time, as per our email sent 18th August (with the exception of Year 7 who will have a chaperone for their first test). Form tutors will remind pupils on the morning of their test. We request that pupils please bring a face covering to wear whilst queuing in the test centre (unless exempt).
Catering
After a challenging 2020/21, we are delighted to be offering an extended hot menu from September. Our new meal deals are available from £2.50 to £2.80 and include a hot or cold main meal, choice of drink and dessert. Our free school meal allowance (for eligible pupils) will increase to a maximum £2.80 per day, which can be spent over morning break and/or lunch. Please note that any underspend will not carried forward to the next day.  
Payment
We will be operating a contactless student card system for catering. Your son/daughter's card will be individually named and will link directly to their ParentPay account. Pupils are encouraged to keep these safe and to present their card every day to lower queuing times. Pupils with their cards will be served first.
Lost Cards
In Week 1 only, any lost cards will be reissued free of charge (Year 7 pupils will be provided theirs on their first day). Moving forward, replacement cards will be charged at £1.00 each and will be deducted from the pupil's ParentPay balance. We do not operate an overdraft system.  In an emergency situation, a basic sandwich will be provided if there is not enough money on a pupil's account for a meal, for one day only. Free water is available across the school and pupils can benefit from bringing a refillable drinks bottle.
Free School Meals/School Transport     
Please contact North Yorkshire County Council directly with queries relating to eligibility and/or for clarification on arrangements:
 https://www.northyorks.gov.uk/admissions-transport-and-free-school-meals-team
Expectations Evening and Parent Updates
We will shortly send out further details for a series of online presentations from the Learning Managers. These will take place on Wednesday 15th September. We will also update parents at the beginning of each learning cycle to explain our key themes and values.
Equipment:
Just a reminder that the most helpful basic equipment should include pen, pencil, ruler, calculator, a purple pen (for feedback work), rubber and pencil sharpener. As with all equipment and uniform requirements, if any parents need any support the pastoral officer for each year group will be able to advise and assist.
Yours sincerely,
Mr CA Sugden
Headteacher