It is never too early to start thinking about what you will do when you leave King James's School and we have lots of support available to help you decide:
Our careers adviser – Karen Morgan – is available to speak to
Visitors from Post 16 establishments and apprenticeship providers will be visiting and taking part in our assemblies and career events (taster day, careers fairs etc).
Our Careers events throughout the year will give you the opportunity to meet and find out more about different options that are available to you.
Our websites has links to quizzes and websites that you can research to find out more
School virtual Careers library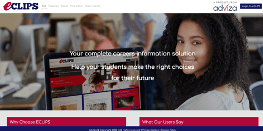 We have chosen eCLIPS as our careers information resource. This easy-to-use online platform will help you make informed decisions for your future. It's written specifically for 11-19s by career professionals and provides:
Accurate information on over 1400 jobs to help your consider the full range of options available to you
Live-streamed labour market information including local vacancies
Information catering for people of all abilities and stages (from school to adulthood)
Careers linked to school/college subjects
Impartial advice to help you choose study and employment options and prepare for the world of work
An interactive career matching tool
Our licence provides unlimited access both at school and at home. Parents are most welcome to use the resource.
By investing in eCLIPS we are helping to meet four of the eight Gatsby Benchmarks (2, 3, 4 & 7), the Government's chosen standards for high quality careers guidance provision.
How to access the eCLIPS careers library – you child will have posters in their form room with the access code. Emails will go out to parents at the beginning of the autumn term with the password for eCLIPS. If you cannot access the website contact our Careers Adviser Mrs Morgan or Mrs Baker for the code. (Licence conditions prevent us posting the passwords on the website)
What is an apprenticeship?
Apprenticeships combine practical training in a job, with study. An apprentice will:
work alongside experienced staff
gain job-specific skills
earn a wage and get holiday pay
be given time for study related to their role (the equivalent of one day a week)
There is a huge range of apprenticeships available in the UK and at all different levels.
There are many different options at post 16
A Levels
T Levels
Technical and Vocational Courses
Applied Qualifications
To find out more about what these qualifications are click here 
Studying A Levels
School – You can study A Levels and BTECs at King James's School – see our current prospectus here. The new 2024-25 prospectus is now available.
Studying A Levels at a different school – do check out the school website and look at their 6th form and prospectus pages for open days, taster days and application deadlines.  This is particularly important if you are moving out of area (let the careers adviser know and she will help you with this).
Further Education Colleges – York College and Leeds City College (Leeds Sixth form College) offer A Level programmes (and mix with BTECs).  See links to websites below.
Studying Technical and Vocational Courses
These are the main colleges in our area.  Please ask for the support of the adviser if you are moving out of the area after Yr. 11 or Yr. 13.