Current Year 11  – students at KJS – if you wish to apply to the Sixth Form please complete this application form which is also available on the Sixth Form Page of ItsLearning.

When you join the Sixth Form at King James´s you will be joining a community of around 250 students. By winter in Year 11 you will be thinking seriously about deciding your post-16 options – subjects and course level. Whether you are already at King James´s or are new to the school, we will provide you with a carefully planned, step-by-step induction programme that will ensure that you are fully briefed to make the best possible choices. Through discussions and interviews with your Form Tutor, Careers Advisor and other staff you will have every opportunity to look at your strengths and to decide upon the most suitable option for you.
We are pleased to open our sixth form to parents and students on Thursday 18th January 2024 6:30pm – 8:00pm
The Sixth form team have also put together a video that highlights some important information we feel would be beneficial to you. 
If you have any further questions for our team, please email sixthform@king-james.co.uk or use our enquiry form, open 11th January onwards.
Watch our Introduction Video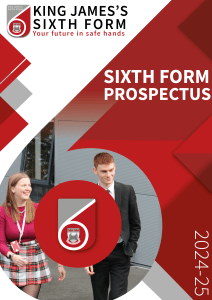 Prospectus 2024/25 available online
Thursday 11th January 2024
Thursday 18th January 2024
Sixth Form Open Evening 6:30-8pm  All Year 11's welcome 
Wednesday 7th February 2024
Taster Day **
(KJS/BHS) Students Only
Friday 23rd February 2024
Individual Post – Application Meetings
Thursday 22nd August 2024
Enrolment, Transition, Induction
& Start of Term
**External Students will have a separate induction programme and will be advised once an application has been received.